Built to your standards, and ours.
A Mercedes-Benz is built to meet the highest standards. It's what you've come to expect from us. And now, it's what you can expect from our growing network of eXpertUpfitters.
eXpertUpfitters
Nothing gives you more flexibility and options than one of our upfit-friendly vans. Whether it's the Sprinter's 3-engine versatility, the unobstructed frame rails of the Sprinter Cab Chassis, or the versatile space of the Metris, our vans can handle any configuration you require. And when combined with the expert craftsmanship of a Mercedes-Benz eXpertUpfitter, there simply isn't a more flexible work van on the road.
Take a look at what others have done, and imagine what a Mercedes-Benz can do for you.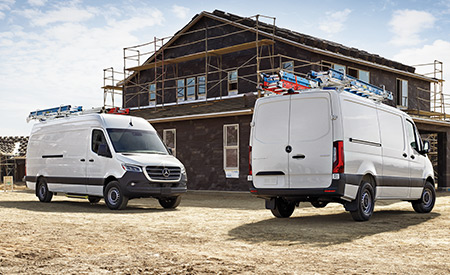 Become an eXpertUpfitter
Mercedes-Benz works with top upfit and bodybuilding specialists to ensure that components and installation meet the high-quality standards expected from Mercedes-Benz. For more information on joining our exclusive network, check out the eXpertUpfitter Portal.
Build on our network