More Workday Coverage.
It's one thing to be hard-working. It's another to stay hard-working, even longer. That's what you get with Mercedes-Benz VanCARE. Maintenance, warranties, comprehensive service. Longevity for your workday.
Ensure your vehicle remains capable of great performance by servicing your van with your authorized Mercedes-Benz vans service centre. Our certified technicians have the most up-to-date knowledge and technology, so we can provide you with the highest quality service in the industry.

Extended Limited Warranty (ELW)
More warranty. More certainty.
The Extended Limited Warranty product offers you greater coverage for mechanical, electrical and electronic components. It protects you against unforeseen repair costs and without any deductibles, you get the benefit of predictable and attractive conditions.

Pre-paid Maintenance (PPM)
Keeping your van in top shape.
Regular and accurate checking of the most important vehicle parts and functions ensures that your van continues to deliver outstanding performance and reliability. Maintenance prevents unnecessary repair costs and keeps downtime minimal.

Complete
The all-inclusive service package.
If you require comprehensive additional protection for your van, look no further than our Complete product. This package covers all workshop work, including wear and tear repairs. The vehicle is ready for action when you need it, and you keep costs safely under control.
***For detailed warranty coverage information please check the vehicle manufacturer warranty booklet.

Service solutions built for you
Learn more about all this and much more available to you with our ServiceCARE Customer Guide.
Download

Mercedes-Benz Service
Maintaining your Mercedes‑Benz shouldn't slow you down. And with our Mercedes‑Benz Service, it won't. Wherever you turn you'll find certified commercial technicians, heavy-duty state-of-the-art commercial equipment, and low commercial labour rates. And you can trust that no matter which Mercedes‑Benz location you call on, we'll help you get every ounce of power and efficiency out of your work van.
Find a service centre near you
We back our vans with one of the most comprehensive warranties in the business. And by following a routine maintenance schedule at an authorized Mercedes-Benz service centre, you can be sure your van has a long and productive career.
The Mercedes-Benz Vans standard manufacturer warranty coverage as of MY19 is outlined below.

Build to your specs.
Every component we offer has been designed to increase your safety, comfort, and productivity. Your Mercedes-Benz dealer can provide you with a full line of accessories, so you get the most out of every square inch of your van.
Accessories brochure
Mercedes-Benz Financial Services
The right financing solution for your Mercedes-Benz is out there, and Mercedes-Benz Financial Services can help you find it. With the understanding that every commercial customer is unique, we offer a variety of products and solutions with flexible benefits and competitive rates tailored specifically to your business. Finance and lease options include: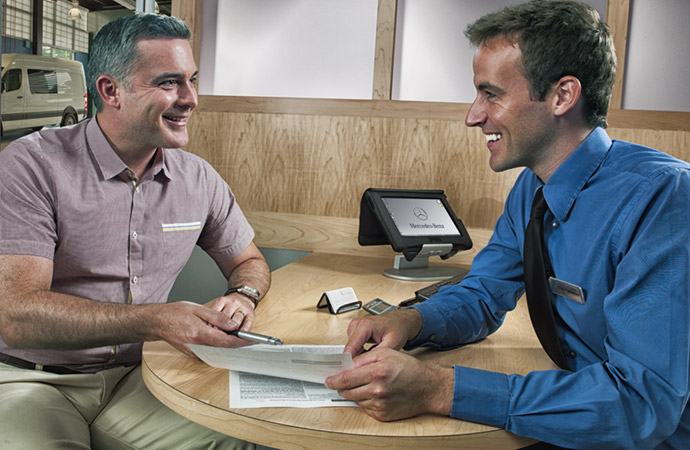 COMMERCIAL LEASING
Competitive open-end lease rates and programs, no excess kilometrage or wear and tear charges.

COMMERCIAL RETAIL FINANCING
Flexible program options such as skip and balloon payment.[4]
Our finance professionals are dedicated to providing you with a first-class financing experience so you can focus on your business.