Success Made To Scale with Mercedes‑Benz Fleet.
Find your Fleet
Talk with the Mercedes-Benz fleet team about your commercial vehicle criteria. We'll recommend a fleet with the ideal body style, interior configuration, and load capacity to suit your requirements.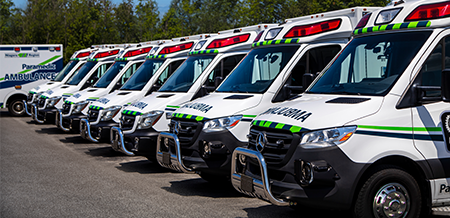 Management Compatibility
Mercedes‑Benz is completely compatible with major Fleet Management Companies, so you and your team can utilize all strategic assets at your disposal.

When We Win, Your Business Wins.
We work tirelessly to engineer vans that provide unmatched workday power and value. And that work hasn't gone unnoticed. We're proud recipients of many industry awards that result in your business's success—including multiple VincentricTM awards for 2021.
See Awards
ServiceCARE
Incredible customer experience shouldn't be diluted by the amount of vans you own—each van in the fleet is as critically important as the next. That's why we take great pride in offering ServiceCARE plans made to scale with your business. And, for fleets over 25 vehicles, it's all managed by a dedicated Key Account Manager for your convenience.
Learn More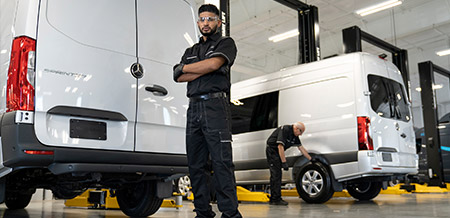 Fleet Extended Limited Warranty
The Extended Limited Warranty (ELW) product offers you greater coverage for mechanical, electrical and electronic components. It protects you against unforeseen repair costs and without any deductibles, you get the benefit of predictable and attractive conditions.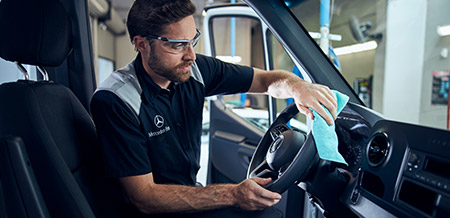 Fleet Pre-paid Maintenance
Keep your van in top shape with Fleet Pre-paid Maintenance (PPM). Regular and accurate checking of the most important vehicle parts and functions ensures that your van continues to deliver outstanding performance and reliability. Maintenance prevents unnecessary repair costs and keeps downtime minimal.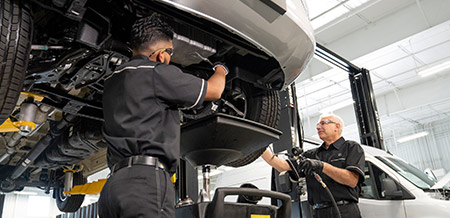 Fleet Complete Package
The Fleet Complete Package is the all-inclusive service plan with comprehensive protection for your van. Coverage includes all workshop work, including wear and tear repairs to ensure that your vehicle is ready for action when you need it, and you keep costs safely under control.
Testimonials
Our Fleet offerings help businesses across Canada. But, don't just take our word for it. Hear from some of our real-life fleet customers.
Financing
As the in-house financial services provider for Mercedes-Benz Canada, Mercedes-Benz Financial Services has the knowledge and experience to put together a financing package to make your fleet's numbers work for your company.

Financial Services
No matter where you are on your business journey, Mercedes-Benz Financial has commercial leasing and financing options to help you thrive. Learn more about our flexible range of benefits, market-leading services, and competitive rates, today.
Learn More
Dealer Fleet Special Offers
Check out our Dealer Fleet program special offers on the Sprinter and Metris.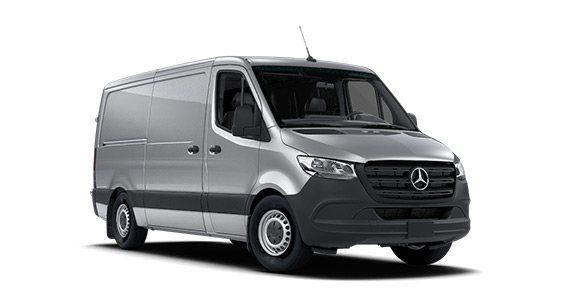 THE 2022 SPRINTER CARGO VAN
2500 STANDARD ROOF, 144" WB, 4-CYLINDER DIESEL
Cash Offer
Receive up to $2,500 MBC Support. [2]
Offer valid through October 3, 2022.
Offer Details
To qualify for the Dealer Fleet program, applicant must have a minimum of 5 vehicles registered under applicant's name or under applicant's business name (does not include trailers); or the current purchase gets to 5 vehicles registered (eg. 1 unit purchased; 4 units already registered); or purchase of 3 or more vehicles (does not include trailers) at a time. All fleet programs require FAN number.
© 2022 Mercedes‑Benz Canada Inc. 2022 Sprinter 2500 144" WB Diesel Cargo Van shown, National MSRP $50,110. Purchase price of $47,610. Pricing shown is intended for informational purposes only. Prices may vary depending on your location. Prices do not include taxes, levies, fees, freight/PDI, dealer admin fee, air‑conditioning levy, licence, insurance, registration or applicable provincial fees, or any other products or services not listed that may be available to you through your selected retailer. Cash credit only applicable for customers paying in cash and not financing through Mercedes‑Benz Financial Services. Not all customers will qualify. Dealer Fleet, Affiliate Fleet Program and Fleet Management Company programs are not stackable with each other. Dealer Fleet Program, Affiliate Program and FMC Program are stackable with monthly Retail Campaign. Certain limitations apply. Offers are non‑transferable, non‑refundable and have no cash value. Offers may change without notice. These prices do not apply in provinces with total/all‑in pricing requirements. The offer shown applies only to approved Mercedes‑Benz Canada Dealer Fleet customers. For complete details and eligibility please contact your authorized Mercedes‑Benz dealer or call the MB Customer Relations Centre at 1‑800‑387‑0100. Offers end October 3, 2022.
$2,500 manufacturer credit only available on 2022 Sprinter 2500 Diesel Cargo Vans.
Contact Us
At Mercedes‑Benz, we understand the need to have a trusted partner, who will be with you today—and down the road. Our dealer network is ready to assist you with fleet needs for 5 to 25 vehicles. For fleets of more than 25 vehicles, our Key Account Managers are here to provide you with comprehensive support and tailored packages, and to handle all your fleet needs.